U Part Wigs are A Favorite For Beginners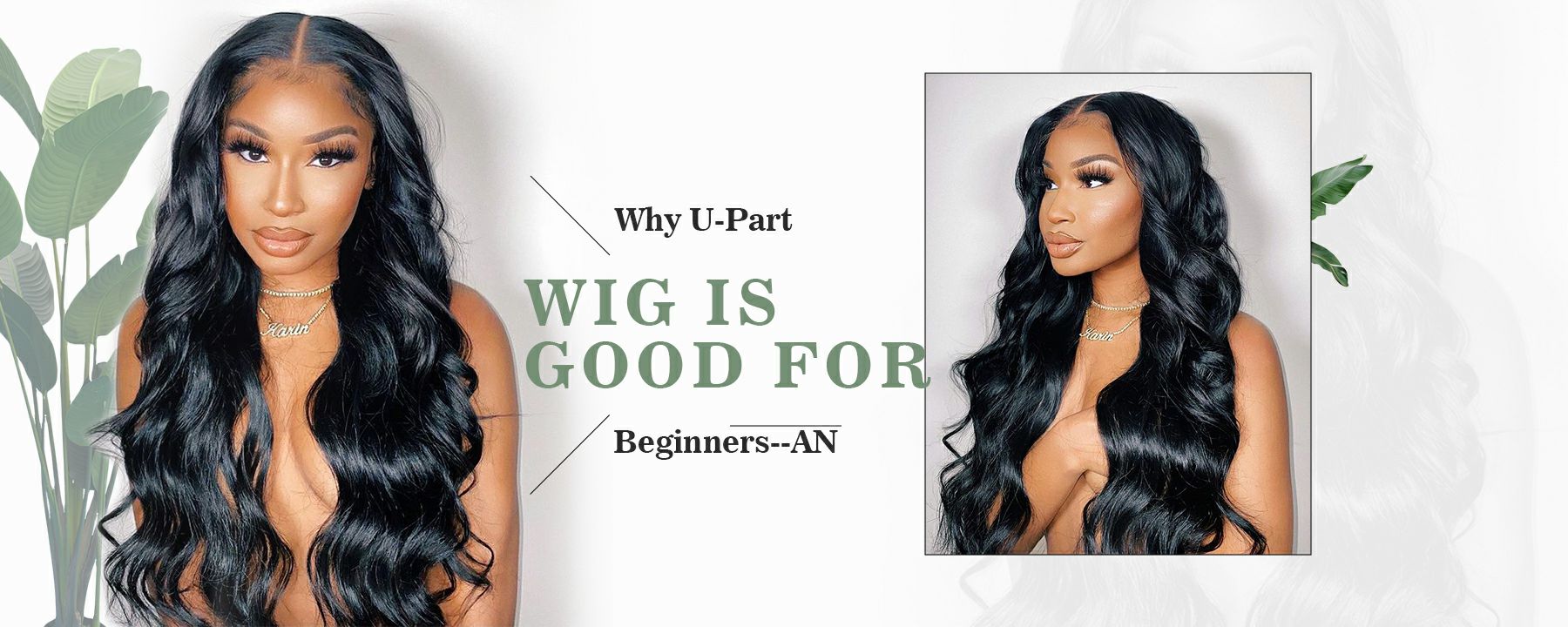 Are you tired of your boring hair, and do you want some change in your looks? As we know, hairs play a vital role in contributing to the beauty of every woman. You cannot achieve your desired look without full hair.
After a complete makeup look, you cannot look beautiful without a good hairstyle. Even a great hairstyle without any makeup can make you stand more confident in any event.
Wigs are a great choice in fulfilling all your personalized needs, and you can achieve your desired results. But if you are a beginner and have never tried any wig before, you must start with U part wigs as they are great for beginners. 
Let's get in detail about U Part wigs to have a better understanding.
Why U-Part Wig is Good For Beginners?
A U part wig can be constructed of natural hair. There is a U shape left out on the forehead, distinguishing it from full lace or frontal lace wigs. Women who install a U-part wig can fill in the part with their hair, resulting in an unnoticeable and natural hairline.
The back of the U part wig has clips and adjustable straps so you can clip it in place and modify the size to match your head. Install it in 3 minutes, and you'll have thick and full hair. You can achieve your desired hairdo by using a U-part wig. You can also go with a square wave and then mix, color, perm, or curl it when you're tired of it.
U part wigs are a type of women's wig. Depending on the hair texture, you can discover Brazilian human hair U part wigs, Malaysian hair U-part wigs, Indian hair U part wigs, or Peruvian U part wigs. Hairstyles vary; some individuals prefer straight hair U part wigs, while others prefer body wave U part wigs.
Who can use U Part wigs?
Wigs for black women are an essential component of their daily lives. African American ladies can wear a U part wig. They can braid their hair, clip the U part wig on the hairlines, and blend their hair to match the wig.
People who want to add volume to their hair might use a U-part wig. Clip-on your hair to make it thicker and fuller, just like hair extensions. Then create a hairstyle that they like. Please choose the same hair color and texture as your hair, or it will not match your hair, which is another issue.
Features Of U-Part Wigs
Some of the features of U Part wigs are given below,
Hair components are 100 percent raw hair with no chemical processing and are tangle-free, shedding-free, glossy, shiny, lice-free, and split-free.
A lace cap with a U shape pattern; you can leave out your hair for this part; no lace closure or lace frontal must be sewn in. Keep in mind that you should choose the same hair color as your own, or dye it to the same hue, or it will not match with your hair.
With 5 clips in the wig cap, you can effortlessly clip the wig on your hair without adhesive, making it solid and secure. There is no harm done to your hair.
The wig hat has adjustable straps on the back.
The wig cap is airy and pleasant, and the U part wig is machine-made. Machine-made hair products save production time. Customers can obtain it very quickly.
It blends in flawlessly with your hair, making it appear natural, invisible, and undetected. Supernatural appearance without causing any harm to your hair.
Care of U Part Wigs
Having a wig and not caring for it is not a good option. A wig also needs proper care, like your original hair, so that you can use it for the long term.
Some of the caring instructions are given below,
It is important to wash your wig and keep it clean. Wash it in warm water and use a specific hair wig shampoo and conditioner to protect the hair.
Even if you use a wig made of genuine hair, you must comb it softly, or the hair will come out. To comb your hair, begin at the end and open the matte portion to allow the hair to comb freely.
Even your hair can split after a long period, and you will need to have it trimmed at a hair salon. So, after a while of wearing the U part wig, you'll need to trim the split ends to prevent harm from spreading to the hair. Trim the ends every 6 to 10 weeks.
Conclusion
We found out that your part wigs are an excellent choice, especially for beginners. It adds up to the volume of your hair, and it is easy to use. People who recently started wearing wigs are mostly attracted to U Part wigs.